Overview
The 77 GHz radar system supports adaptive cruise control, collision protection and collision warning systems with or without automatic steering and brake intervention. In the collision warning system, the radar chipset can detect and track the target, automatically adjust the speed of the vehicle according to the traffic conditions ahead and control the distance from the preceding vehicle, alert the driver and initiate emergency braking intervention in the event of an impending collision.
Freescale's high-performance multicore Qorivva 32-bit MCUs integrate Freescale's 77 GHz radar transceiver chipset for long, medium and short range applications with leading performance and integration capabilities. This scalable radar solution supports the generation and processing of complex signals for a wide range of security applications.
77 GHz radar system block diagram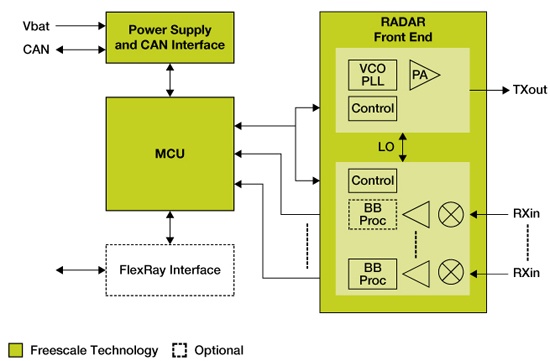 Reference device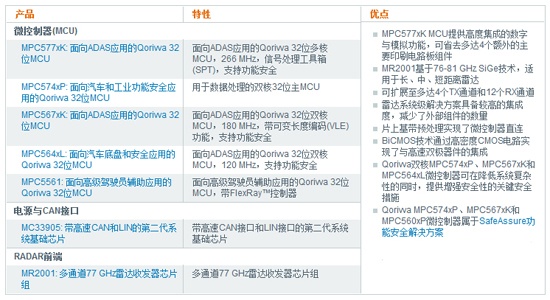 1. Microcontroller (MCU):
The Qorivva MPC567xK family of Power Architecture®-based 32-bit MCUs provides an attractive low-cost solution for advanced driver assistance system (ADAS) applications. The series adds memory to the chip, increasing speed and performance, and supports applications such as adaptive cruise control, smart headlight control, lane departure warning, and blind spot detection. The Qorivva MPC567xK microcontroller is a SafeAssure functional safety solution.
Qorivva MPC567xK block diagram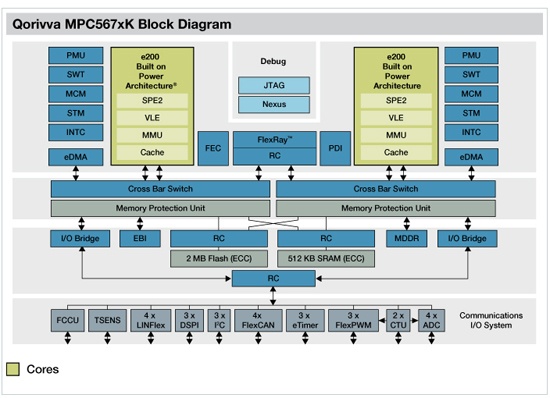 Details: MPC567xK Qorivva 32-bit MCU for ADAS applications
Based on Power Architecture® technology, the Qorivva MPC5561 MCU is designed for advanced driver assistance applications, combining high performance computing and signal processing capabilities. Featuring FlexRayTM network controllers and Freescale's energy-efficient e200 core, it enhances performance for advanced automotive safety applications. The Qorivva MPC5561 can help you control costs while designing increasingly complex applications. Software and pin compatibility allow reuse of legacy software and hardware architectures to protect investment in application code and development tools.
Qorivva MPC5561 block diagram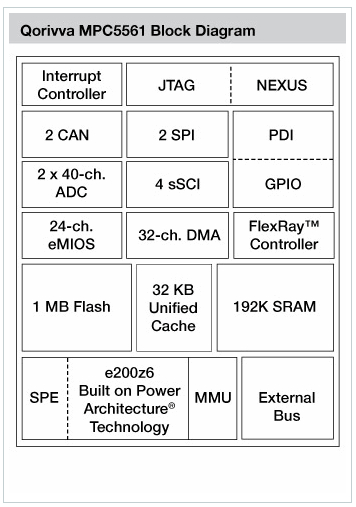 Details: MPC5561 Qorivva 32-bit MCU for advanced driver assistance applications
2. Power supply and CAN interface:
The MC33905 is a device in the second-generation system-based chip family. It integrates multiple functions and enhanced module design. As an advanced power management unit, this device is suitable for MCUs and additional integrated circuits such as sensors and CAN transceivers. It has an enhanced high-speed CAN interface (ISO11898-2 and -5) with local and bus fault diagnostics, protection and fail-safe operating modes. The SBC can contain 0, 1 or 2 LIN2.1 interfaces to the LIN output pin switch. It contains two or three wake-up input pins that can be configured as output drivers for flexibility.
MC33905 block diagram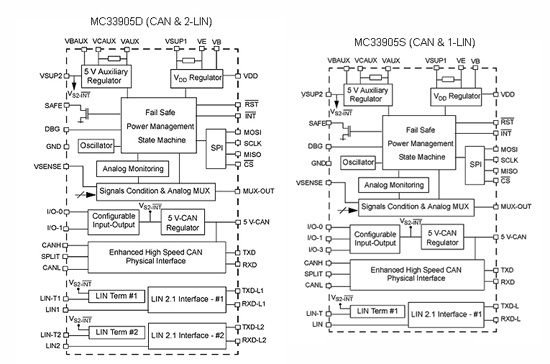 Details: MC33905 second generation system base chip with high speed CAN and LIN
3. RADAR front end:
The MR2001 is a high-performance 77 GHz radar transceiver chipset from Freescale that can be expanded to multi-channel operation, enabling single radar platform with electronic beam steering and a wider detection area for automotive safety systems and communications infrastructure Long-, medium-, and short-range radar applications with industrial control systems.
The MR2001 radar chipset supports fast modulation of multiple parallel active Tx channels for superior spatial resolution and detection accuracy over a wide detection area. It supports a wide range of chirps within the open-loop VCO radar system architecture with very low power consumption. Integrated BB filters and VGA save overall material costs.
The MPC577xK MCU family uses the MR2001 77 GHz packaged radar front-end chipset to provide a complete system-level radar solution for ADAS applications such as adaptive cruise control, emergency braking, lane departure warning and blind spot detection.
The MR2001 uses advanced packaging technology to ensure the highest performance and minimal signal degradation in the user's PCB.
MR2001 simplified application simplified diagram
Details: MR2001 Multi-Channel 77 GHz Radar Transceiver Chipset
Adopting KN95 grade anti-particulate matter filtering technology and antibacterial environmental protection fabnc, effectively filtering and protecting from PM2.5 air particulate matter and bacteria. without breathing valve.
Adopting KN95 grade anti-particulate matter filtering technology and antibacterial environmental protection fabnc, effectively filtering and protecting from PM2.5 air particulate matter and bacteria. without breathing valve.
(Details
NIOSH Approved: KN95
FDA Cleared
Helps protect against certain airborne biological particles
Fluid resistant and disposable
Features include:
NIOSH approved KN95
Meets CDC guidelines for Mycobacterium tuberculosis exposure control
99% BFE (Bacterial Filtration Efficiency)
Fluid resistant
Collapse resistant cup shape design
Braided headbands, cushioning nose foam, and light weight construction for comfortable wear)

N95 Mask,Surgical Mask,Earloop Face Mask,Disposable Protective Mask
Guangzhou HangDeng Tech Co. Ltd , https://www.hangdengtech.com