I. Overview
Vision technology is an emerging technology that has developed in recent decades. Machine vision can replace human vision for inspection, target tracking, robot guidance, etc., especially in situations where repeated and rapid acquisition of accurate information from images is required. Although the machine vision function is still at the primary level under the current hardware and software technology conditions, its potential application value has attracted great attention from all countries in the world. Developed countries such as the United States, Japan, Germany, France, etc. have invested a lot of manpower and resources. In recent years, breakthroughs have been made in some aspects of machine vision. Machine vision has become more and more important in applications such as vehicle safety technology and automation technology. This paper designs a general vision system module based on the latest CMOS image acquisition chip. After programming different image processing and pattern recognition algorithms, this module can be applied to soccer robots, unmanned vehicles and other occasions.
Second, the design principle
The system block diagram is shown in the figure.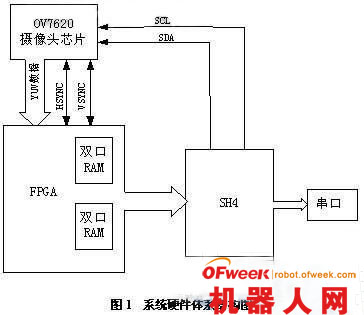 The system consists of five main chips: image acquisition chip OV7620, high-speed microprocessor SH4, large-scale programmable array FPGA, and serial communication control chip MAX232. The FPGA internally program sets up two dual-port RAMs to generate the dot frequency, line sync and other signals required by the image sensor, and to control the storage timing of the dual port RAM. SH4 is responsible for configuring the OV7620 through I2C, reading the image data of the dual-port RAM, processing it, and uploading image data through the serial port or controlling other devices such as stepping motors.
Third, the image acquisition module
The system module is based on the CMOS image sensor OV7620. It also includes a condenser lens and other auxiliary components such as a 27MHZ crystal oscillator, resistors and capacitors.
The COMS image sensor is a new type of image sensor that has developed rapidly in recent years. Because of the same COMS technology, the pixel array and the peripheral support circuit can be integrated on the same chip, which is a complete image system (CameraonChip). The system uses a CMOS color image sensor OV7620 from Ommnvision with a resolution of 640x480. It works in progressive scan mode and works in interlaced mode. It can not only output color images, but also can be used as a black and white image sensor. The chip supports a variety of image output formats: 1) YCrCb4: 2: 216bit / 8bit format; 2) ZV port output format; 3) RGB raw data 16bit / 8bit; 4) CCIR601 / CCIR656 format. Its functions include contrast, brightness, saturation, white balance and auto exposure, sync signal position and polarity output, frame rate and output format can be programmed through the I2C bus to configure on-chip register control.
The concentrating lens uses a DSL103 lens produced by Sandis. This lens is small enough for embedded vision sensor applications.

Gmaii pos guarantees your business the lowest integrated payment processing rate, customized to match your transaction volume.

More Ways to Bring In Money
Our register = your secret weapon. Zip through transactions and easily accept all payment types, including Apple Pay and EMV chip cards.

Cherry-Pick Your Retail POS Setup
Whatever POS hardware your retail business needs, we've got you. We'll even walk you through the hardware selection process.

Grow on Your Own Terms
You do you. As your business grows Gmaii pos`s retail store software is designed to help you pivot with advanced features.

Retailer Accepts Credit Card Payment with POS System
Master Work-Life Balance
Whether you're running errands, on vacation, or simply away from your retail location, you're going to love how easy it is to keep an eye on your business with the Gmaii pos Pocket App
â"¢

.

Simplify Your Day, Every Day
Breathe a sigh of relief. Manual managing of those pesky day-to-day tasks, like counting inventory and exporting data for accounting, is a thing of the past.

Bye Bye Long Lines
Gmaii pos's Tablet Pos System empowers you to strategically place staff throughout the store, minimizing long wait times during peak business hours.

Peace of Mind. All Day, Every Day.
There's no two ways about it: Customer Care should be 24/7/365. Gmaii pos's award-winning support will be here if you need us.

Gmaii pos's Powerful Register Makes Payments Painless
Gmaii pos's smart, modern register, is built for speed and efficiency. From ringing up items to tracking customers and beyond, increasing productivity with the Gmaii pos cash register is always a couple of button taps away, like it should be!

Pos Software for Retail Shops
Transactions
Customize your Gmaii pos register layout the way you want for maximum transaction speed. Plus, never miss a sale again with offline credit card payments.

Restaurant Pos System,Cheap Pos System ,Pos System Retail,Cheap Pos System

Shenzhen Gmaii Technology Limited , https://www.gmaiipos.com