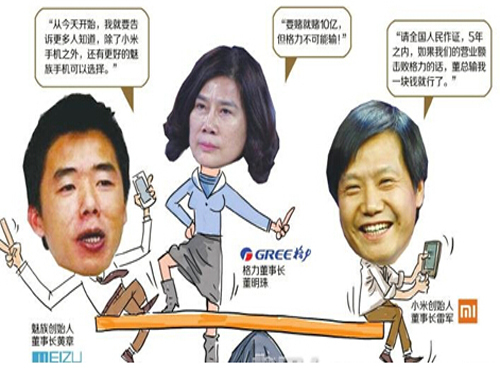 At this time last year, domestic mobile phone brands such as OnePlus, Xiaomi, and ZTE unanimously announced the launch of new mobile phones. The most outrageous one was Luo Yonghao's hammer mobile phone. Unfortunately, Lao Luo accidentally put the "feelings" into play and the leather was blown.

At the end of last year, Lao Luo followed, and comic actor Wang Zijian announced that he wanted to start a mobile business.

Recently, all kinds of exotic mobile phones have also been exposed: "Miss Dong" (Geli Chairman Dong Mingzhu) on "Rybus" (Millet Chairman Lei Jun) said that we must do a Gree that does not change consumers for three years. Mobile phone; 360-year-old Hong Hao announced high-profile into the mobile phone field, said to be suitable for "silk" 360 special machine; crazy English Li Yang said that his crazy mobile phone only charge 3 times a year ... ... Looking at the situation of latecomers, These mobile phones are becoming less and less "professional."

Gree, LeTV, etc.

One after another cross-border into the mobile phone industry

With the popularity of the mobile Internet, the smart phone market was suddenly ripened last year. Apple, Samsung, Huawei, Xiaomi, Coolpad, Lenovo, ZTE and other vendors are firmly ranked in the front row of sales.

The mobile phone market seems to have become saturated, but there is still a flood of "not afraid of death", and many are outsiders.

The biggest name in the "Death Squad" was Dong Mingzhu. Two months ago, "Miss Dong" released a public admonishment in public that "I have to do a cell phone, minutes, too easy." At a speech two months later, she immediately took out a Gree mobile phone and said, "I'm already using it."

"Geli's message to be a mobile phone has been passed for a long time. Since she and Lei Jun have bet, the industry has reported that she and Meizu, Cool and other mobile phone companies are cooperating to develop." A person in the mobile phone industry said.

Dong Mingzhu's Gree mobile phone is white, large-screen, and feels very light in his hand. The appearance looks like a Xiaomi 4 or a Sony Z3. It looks like a square, in line with the current mainstream mobile phone design style. According to Gree, the phone will be sold at the end of the month.

According to Gong Wenxiang, an electricity supplier, Gree's mobile phone is priced at RMB 1,000. In 2015, it will sell 100 million units, which is in line with Xiaomi's sales target.

LeTV also has to do mobile phones, and already has a look. Hong Kong Media reported that LeTV may be released in Silicon Valley on April 28, US time. LeTV CEO Jia Yueting said that LeTV's rivals are Apple iPhone 6 and iPhone 6 Plus, which obviously makes people find Tucao opportunities. Some netizens have witnessed the mobile phone as music content, and called it "a frontal image of Huawei, a side like a millet, and a back like a Meizu".

Li Yang, known for his "Crazy English", also announced last week that his "Crazy Cell Phone" is about to go public. The language is not surprisingly endless, Li Yang boasted that his cell phone "only need to charge three times a year." It is said that some netizens have seen Li Yang's mobile phone. The evaluation given is, "Like a brick, it was a grade five years ago."

In addition, there are 360 ​​Zhou Hongyi, claiming to be an AK47 cell phone.

Want to borrow mobile phones

Occupy the mobile end of their respective fields

What are the reasons why so many laymen squeeze into the mobile phone industry?

The most direct explanation is to make money. Especially in the years when the fans' economy was in power, Dong Mingzhu, Li Yang, and Zhou Hongyi all had huge fans.

Pan Dedi, who opened a five-year-old mobile phone store in Hangzhou Ego Digital Plaza, bluntly said that these new phones are not very promising. "If these mobile phones go to all cities in the country, it's definitely not worth the sales network. The sales channels are definitely based on online sales. Our distributors who make iPhones are unlikely to go into these phones, mainly because they are afraid of no one buying them."

Some analysts believe that these non-professional mobile phone manufacturers "who are not willing to drink," in fact, in order to lay the mobile in their respective fields.

In Nagri's case, Dong Mingzhu's argument that "for consumers not to change their mobile phones for three years" is obviously a bit too heavy. Most people understand that this is for marketing momentum.

"We want to make the air conditioner a server in the home, and the mobile phone is only part of the entire smart electrical appliance industry chain." On the 27th, Dong Mingzhu responded to questions from the outside world about Gree's advancement into the mobile phone industry at the 2015 Boao Forum for Asia. "If the smart air conditioner does not upgrade, then this phone is equal to zero."

The real purpose of Gree is to realize smart homes through mobile phones. Through the concept of the "Internet of Things", the Nuggets use mobile phones to control home appliances and regulate the living environment.
Slag Free Soybean Milk Machine
Stainless Steel Soy Milk Machine,Slag Free Soybean Milk Machine,Smart Soy Milk Machine,Soy Milk Nutrients Machine
JOYOUNG COMPANY LIMITED , https://www.globaljoyoung.com