At noon on April 20th, Beijing time, virtual reality headsets such as Oculus Rift and HTC Vive are attracting strong interest from users. These products are also starting to appear on the eBay platform, and the price is hundreds of dollars higher than the retail price.
At the China Electronic Information Expo held in Shenzhen not long ago, many Chinese users are keen to experience VR helmet equipment. American and British users prefer to purchase and experience these advanced equipment.
On eBay, the HTC Vive has a maximum price of $2,250 plus $258.68. The Oculus Rift set costs $1,890. Earlier this year, the booking prices for the two products were about $800 and $600, respectively. Obviously, both products are high-end users.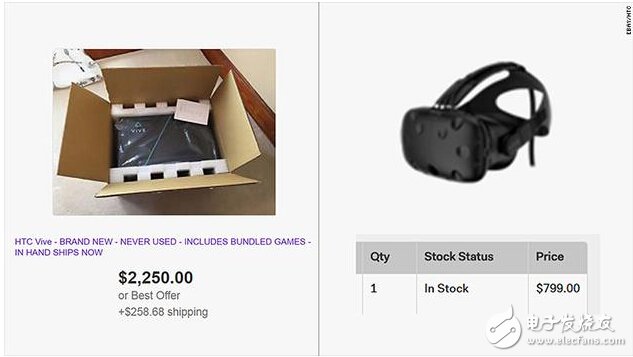 British investment agency Invest Bristol & Bath recently released a survey report that 70% of UK consumers are considering purchasing VR devices in the future, and one-third of consumers have already used VR devices. Invest Bristol & Bath surveyed 2,000 British consumers and found that 75% of consumers believe that VR technology will improve human life, while 50% worry that VR technology will have a negative impact on life.
Users who booked the Oculus Rift at the end of January this year will gradually receive the goods from the end of March. However, Oculus delayed the expected delivery date due to component supply issues, which caused user dissatisfaction.
In a statement last week, Oculus said: "A large number of Rifts will be shipped within 4 weeks of the initial estimated time, and we hope to be faster than this latest expectation."
According to information on the Oculus website, new orders for the US market are expected to be shipped in August 2016.
HTC said that the new Vive order will be shipped around June. The product has been booked since the end of February, and the scheduled delivery time for the booked user was April. On Tuesday, HTC said that April shipments were in line with expectations.
Some people in the industry have tried Rift and Vive at the same time, and the opinion is that Vive is better. When wearing Vive, users can walk around the room, while Rift is similar to many other virtual reality devices, requiring users to be fixed at a certain location.
Both products need to be used with high-performance PCs, and such PCs cost at least $1,000. On eBay, Oculus is paired with ASUS PCs, and Oculus with Alienware PCs are priced at $2,000 and $2,668, respectively.
Earlier this year, Dell offered a suite of PCs and virtual reality devices for about $1,600.
Industrial High Bay Light,UFO High Bay Light,LED High Bay Light,UFO High Bay Light
Vietnam JJ Lighting Company , https://www.vnjjlighting.com