Today, I will focus on a new MIPS64-based product with a high-performance architecture and two equivalent processors from Loongson Technology. The company organized a conference, at which the chief architect introduced a 64-bit processor architecture GS464E and two GS464E-based quad-core processors.
The Loongson 3A2000 and the Loongson 3B2000 are four-way superscalar processors with a 9-stage super pipeline and a sequential execution unit, two floating point arithmetic units, a storage management unit, and a completely new design interconnect. Some reports in China have positioned the 3A2000 as the flagship CPU for the high-performance consumer electronics market (such as desktop and notebook computers, 64-bit embedded and DSP applications and web servers), and for the 3B2000, it uses many local 8-core CPUs. And in the 16-core server system.
MIPS64-based Godson processor
The typical 3B series is the Godson 3B1500, which is a MIPS64-based superscalar processor with a clock frequency of 1.5 GHz. The platform with an integrated 8-core 3B1500 configuration can achieve peak performance of up to 192 GFLOPS with only 30W of power.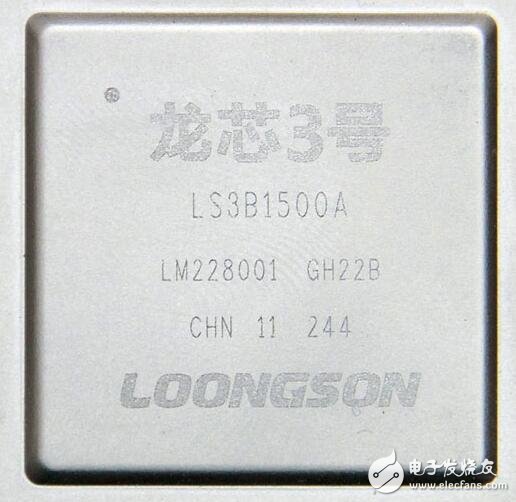 Godson 3B1500 is a new high-performance MIPS64 chip
Winger's chief architect Hu Weiwu also confirmed to ImaginaTIon that the Loongson development team plans to release two chips in 2016: 3A300 and 3B300. Its processor will be built on the leading 28nm process node with a clock frequency close to 2GHz, which will greatly enhance the company's competitive advantage.
For now, the benchmark data released last week for the Godson 3A2000 also shows that MIPS64-based high-end CPUs outperform some competing processors in performance efficiency: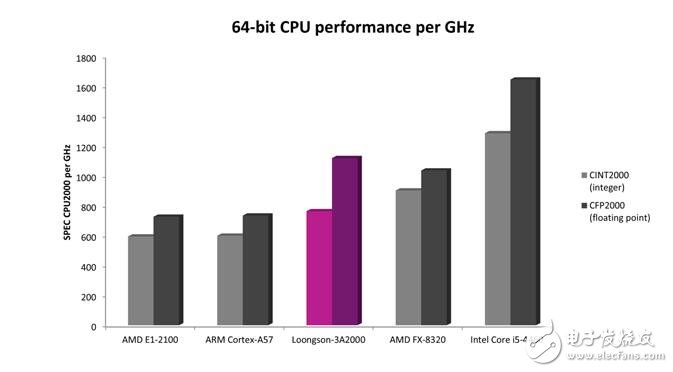 Godson 3A2000 has a competitive advantage per GHz performance
Thanks to some major micro-architecture enhancements, the performance of the new chip is 2.7 times better than the previous generation core (Godson 3A1000 and Godson 3B1000).
Godson GS464E and extended MIPS64 architecture
The new GS464E architecture has a total of more than 1,400 instructions in the LoongISA group; these include:
• MIPS64 Release 3 instructions for high performance and general purpose computing
• LoongBT, a binary conversion technology that enables developers to run x86 and ARM code
• LoongVM instructions for customizing virtual machines
• LoongSIMD instructions for 128-bit and 256-bit vector arithmetic operations
All Loongson CPUs run LOONGNIX, which is the Linux open source distribution for the GS464E architecture.
Innovation in China's semiconductor market
Originally released in 2010, Godson is a product of the Public-Private Partnership (PPP) model. Godson was originally dedicated to R&D and academic activities in the field of 64-bit computing.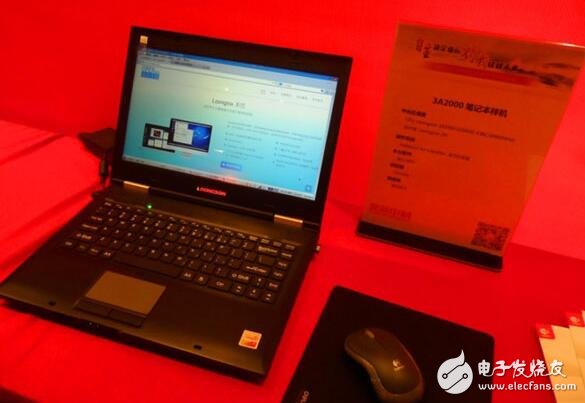 Running Linux on a Loongson-based tablet
As we all know, China is known as the world factory, which has created many equipment and platforms for daily use. However, 80% of the semiconductors used for the consumption of end products are imported, while the imported products are exported from China, and the products left in China are also used by domestic consumers.
For the above reasons, the Chinese government regards semiconductors as a strategic industry, and domestic manufacturers have the potential to increase market share and have the ability to compete with overseas suppliers. Therefore, investing in semiconductor design and manufacturing has become China's national strategy - Godson is taking advantage of this investment boom. After ten years of research and development and market development in the CPU industry, Godson has steadily established a strong consumer system and is poised to prepare for the next round of expansion.
Motorola Battery,Moto Mobile Battery,Motorola Battery Price,Motorola Battery Replacement
Shenzhen Sunwind Energy Tech Co.,Ltd , https://www.sunwindbatterylm.com