Usage:
Garden, Street, Square, Highway
Certification:
CE, RoHS, CQC, EMC, GS, SAA, ISO
With Light Source:
With Light Source
Luminous Efficiency:
>120lm/W
Solar Controller:
12V/10A
Specification:
CE, CQC, EMC, GS, RoHS, SAA, ISO
50W LED Solar Street Light: 50W LED street light, 200 W solar panel, 200 Ah battery, 7m pole
SunMaster can provide Engineering Work for your specific projects. According to your brightness requirements and our own calculations, we can help you in designing the location and orientation of the solar light poles, in order to achieve the best performances. Our services include:
Optimized positioning of the street light poles

Simulation made according to the lighting standards

Technical and design documents for sales pitches

A preview on the final project

For more products range, please view the bellowing configuration list:





20-240W solar street light with CE RoHS
1) Solar Panel: High efficiency mono or poly crystalline silicon;
2) Light Source: High bright LED, white, lifespan more than 50000hours;
3) Controller: Intelligent microcomputer controller, 12V/24V auto, time control & light control,with over-charging and discharging protections etc;
4) Battery: Gelled valve-regulated sealed battery, free-maintenance and deep cycle;
5) Light Pole: 3-12 meters pole, made of quality steel, powder coated after hot dipped galvanized, rust proof.Wind resistance ≥120KM/H;
6) Work Temperature: Ambient Temperature for -30--+60 ºC;
7) Lighting Time: Usually 8 /10/12 hours lighting per night, 3-4 / 5-6 rainy or cloudy days backup;
8) System Voltage: 12v for <40W lamp,24v for >40W lamp

SunMaster Solar Light Application:
Roadway: collector, arterial and highway lighting

Parking lots:open and covered parking lot lighting

Pathways/trails: emergency phones and lights Tennis courts and running track lighting

Perimeter fence lighting

Portable Emergency lighting and power

Brown Out/Black Out Backup Lighting

Remote operations including SCADA and water treatment

Security lighting and surveillance cameras in construction sites and high-risk or dark areas

DOT Bridges with antiquated or damaged electrical wires

Hazard warning lights at stop signs, cross-walks and on met-towers
FAQ
What information does SunMaster need to offer you the best customized Solar Lamps?
Generally, SunMaster needs those questions answered.
1) The sunshine hours per day or the exact city the street lights will be installed
2) How many continuous rainy days in the raining season there? (It matters because we have to make sure the light can still work in 3 or 4 raining days with little sunshine)
3) The brightness of LED lamp(50Watt, for example)
4) Working time of solar light every day(10 hours, for example)
5) The height of the poles, or the width of road
6) It is best to offer the pictures on the locations where the solar lamps going to be installed.
An LED driver is a self-contained power supply that has outputs matched to the electrical characteristics of your LED or array of LEDs. There are currently no industry standards, so understanding the electrical characteristics of your LED or array is critical in selecting or designing a driver circuit. Drivers should be current-regulated (deliver a consistent current over a range of load voltages). Drivers may also offer dimming by means of pulse width modulation (PWM) circuits. Drivers may have more than one channel for separate control of different LEDs or arrays.
A sun hour is a unit of measurement of the intensity of sunlight on the earth at a given time that can be used for generation of solar power, recognizing factors such as climate and weather. A full sun hour is measured as the intensity of sunlight at noon, whereas less than a full sun hour will result during the hours before and after noon.
How does the light know when to turn on and turn off?
SunMaster 's solar controller uses a photocell and/or timer to control when the light will turn on, when the sun goes down, and to turn off when the sun comes up. The photocell detects when the sun comes down and when the sun comes up again. SunMaster can make the lamp last anywhere from 8-14 hours, and this varies on the customer's needs.The solar controller utilizes an internal timer that is pre-set for a specific number of hours to determine when to switch the light off. If the solar controller is set to leave the light on until dawn, it determines when the sun rise (and when to switch the light off) by means of voltage readings from the solar panel array.
What happens if there are cloudy days?
Electrical energy is stored in the battery each day, and some of that energy is used to operate the light at night. Generally, we design your system so that the battery will operate the light for 3-5 nights without charging. This means that, even after a series of cloudy days, there will be plenty energy in the battery to power the light each night. Also, the solar panel will continue to charge the battery (although at a reduced rate) even when it is cloudy.
What is the typical maintenance schedule for a solar lighting system?
There is no regular maintenance required for a solar lighting system. However, it is helpful to keep the solar panels clean, especially in a dusty climate.
Do I have to charge the batteries?
Batteries are shipped 85% charged. The batteries will be at 100% charged within two weeks of proper operation.
power supply replacement, upgrade or spare power needs. This device includes 6 DC output plug tips that are compatible with the most famous brands: Digital photo frame, security products, modem router, PSP consoles, small fans, digital products, small home appliances, etc...

Specifications:
Efficiency: >80% (TYP)
Input voltage: AC100V-240V
Input current: 1.0A
Output voltage: DC 3V/4.5V/5V/6V/7.5V/9V/12V
Output current: 300mA /600mA/1000mA/ 1500mA /2000mA/
Dimension: 75(L) x 43(W) x 35(H) Unit: mm

Instructions:
1.Connect the tip
There are six tips (=plugs) included and compatible with the most famous brands. Please choose the correct tip before turning on the power and make sure that is firmly attached when you plug it into the DC input of your appliance.

2.Set the DC output voltage
Check your device Power Adapter in order to determine the proper voltage. The correct voltage should be listed on the DC input jack or on your existing power adapter. If not, you can refer to the device manual to obtain the correct voltage setting.
The correct value is the same or the closest in comparison to the original power adapter value. For example, if your device DC input requirement is 5.5V, you can set at 5V or 6V.

3.Power on the adapter

4.Connect to your appliance
Now you are ready to charge or use your device.
Plug: EU/ US/ UK
Built-in OVP OCP OTP and SCP.

Include 5-6 DC tips.
Product pictures: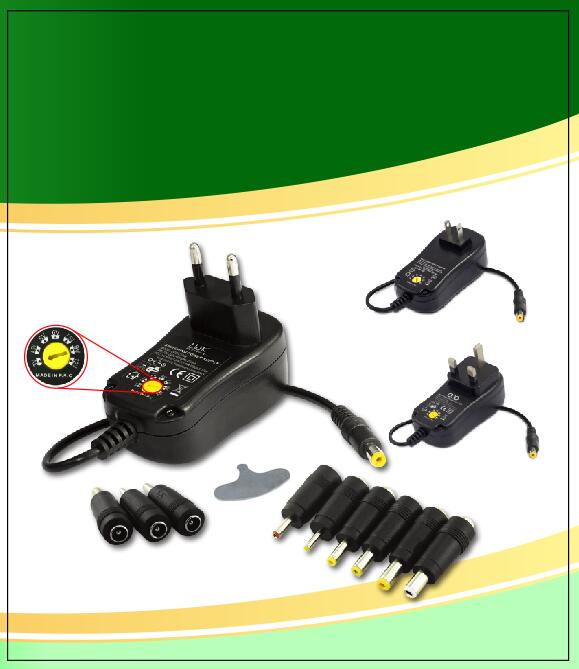 Ac Power Adapters,Travel Plug Adapters,Universal Travel Adapters,Universal Power Adapter
SHENZHEN CHUXU NEW ENERGY TECH CO., LTD. , http://www.szchuxu.com