618 Carnival, the major brands have to play a promotional return fan, compete in the market, add popularity, see still CANTV as a flagship high-quality smart TV brand, give back fans, three large-size LCD TVs to challenge the industry freezing point price in Jingdong, days Cats, Suning Tesco, Gome Online and Gakusei.com also promoted their products. Only on June 18th and 18th, they broke multiple records and became the 618 most active smart TV brand.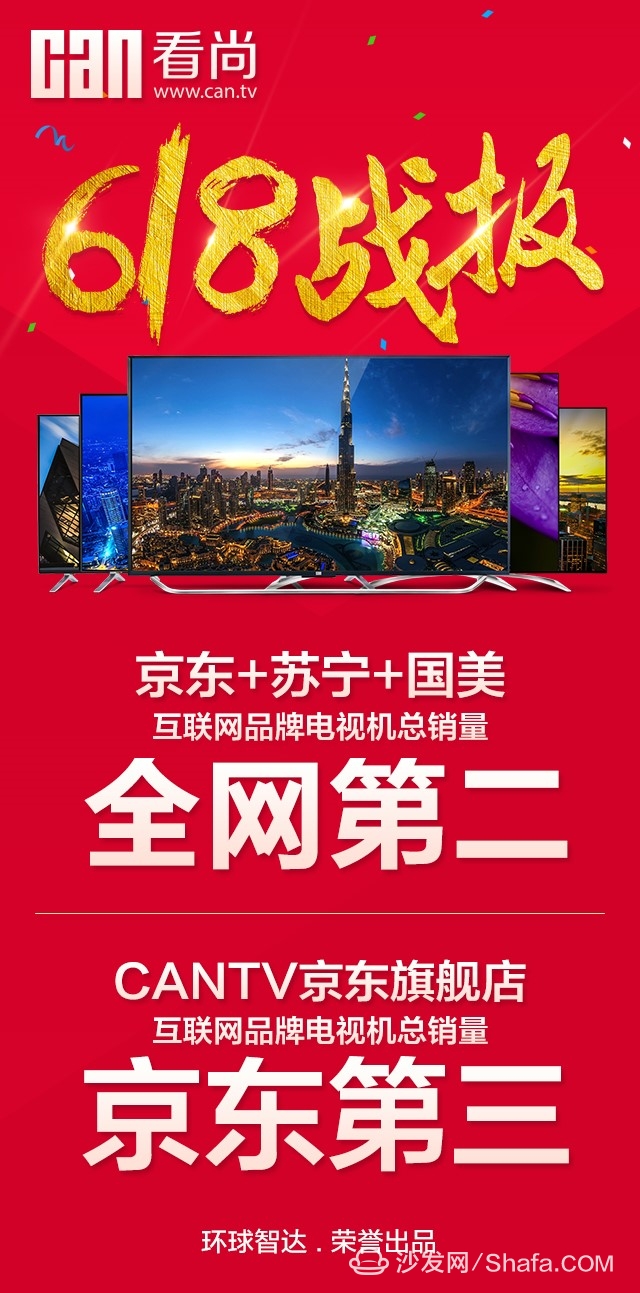 The most pleasant surprise was the 42-inch LCD TV C42S, which became the most popular smart TV for just 999 yuan in just two days from June 17 to June 18, far ahead of the same level of smart TVs, and set a record high. Jingdong TV on the hot list of the first, has also become the United States and Suning with size segment sales champion, but also Suning Tesco Internet brand sales in the entire June champion, becoming the 618 most popular smart TV.
On June 17th, 18th, two days, still see CANTV 55-inch 4K smart TV F55 at the lowest price of 2199 yuan special feedback feedback fans, beyond all competing products, become the whole network 55-inch 4K TV sales champion, see still CANTVF55 to ultra High product quality has won the consumers' favorite. 618 sincerity benefits consumers, not only the price is low, but also presented three-month membership, becoming the most popular 55-inch 4K TV. Excitement exceeds all competing products.
The 49-inch LCD TV's C49S also won good sales. From June 17 to June 18, the entire network sold more than all its peers and became the hottest 49-inch LCD TV, winning a lot of consumer attention.
The 618 still see CANTV also broke a lot of records, outstanding sales have become the third of the Jingdong Internet brand TV, and in the Jingdong Mall, Suning Tesco and Gome Online professional e-commerce platform sales total list, see still CANTV It surpassed some of the traditional big names, ranked second in the Internet brands, and received multiple heat and one-day sales championships, and far ahead of other brands in sales growth, becoming the 618 biggest winner.
This 618 still sees the outstanding achievement of CANTV. As a cutting-edge Internet TV brand, relying on the strong Internet TV service system of the licensee, CANTV, with its high-quality audio and video design and rich content, has won a good record, fully demonstrating that its products have won the recognition of consumers in the market. It also proved that it is still strong. This 618 big promotion has not only made Watch One become one of the best-selling smart TV brands in the entire network, but also greatly improved its brand awareness and brought enough momentum and greater confidence to the fast-growing look of CANTV. Strive to provide users with a better smart TV.
E Cigarettes For Sale,Disposable Dab Pen,Best E Cig Vaporizer,Vapor Smoke
Maskking(Shenzhen) Technology CO., LTD , https://www.szdisposablecigarette.com